In 2019, we can look forward to 5 Female-Centered Sci-Fi Movies. They all have kick-ass women in leading roles and we can't wait. Here's our list!
We simply love female-centered sci-fi movies! Being fans of both the sci-fi genre and awesome female characters, it just works out as the perfect combination. That's why we're beyond excited that 2019 gives us 5 movies, we can look forward to.
And these are all major Hollywood productions, so you know everyone will be looking to see if they can succeed. We're not too worried though. It's looking like a damn fine line-up to us!
Here's our list of the Top 5 female-centered sci-fi movies coming out in 2019 – in chronological order!
Captain Marvel 
This Captain Marvel movie is already long overdue. While Black Widow has become the quintessential side-kick, almost all the male Avengers have gotten movies of their own. Now it's (finally!) time for one of the most powerful characters to have her story told. 
After the huge success of DC Comic's Wonder Woman, it seems "people" are finally ready for Marvel to let their female characters shine. Can Captain Marvel take down Thanos? Well, if anybody can, it's her!
Plot: Carol Danvers becomes one of the universe's most powerful heroes when Earth is caught in the middle of a galactic war between two alien races.
Stars: Brie Larson, Gemma Chan, Jude Law, Mckenna Grace, Samuel L. Jackson, Lee Pace, Ben Mendelsohn, Annette Bening, Djimon Hounsou
In theaters globally March 2019.
Dark Phoenix
From The Avengers to X-Men, there are actually quite a few amazing female characters. And just like Carol Danver's Captain Marvel, Jean Grey is another one of the strongest characters in Marvel's universe.
We loved Jean Grey whether she was portrayed by the brilliant Famke Janssen or the young super talent, Sophie Turner. Dark Phoenix stars Sophie Turner as a young Jean Grey. This time around, Jessica Chastain is also part of the cast along with most of the other X-Men from the previous movies.
Plot: Jean Grey begins to develop incredible powers that corrupt and turn her into a Dark Phoenix. Now the X-Men will have to decide if the life of a team member is worth more than all the people living in the world.
Stars: Sophie Turner, Jennifer Lawrence, James McAvoy, Jessica Chastain, Nicholas Hoult, Tye Sheridan, Michael Fassbender, Evan Peters, Kodi Smit-McPhee
In theaters globally June 2019.
The New Mutants
Yes, we're staying in the world of X-Men with a movie that focuses on the new mutants of the world. The cast is lead by the young talents Anya Taylor-Joy and Maisie Williams.
Most probably know Anya Taylor-Joy from either her breakthrough performance in The Witch or M. Night Shyamalan's Split and the upcoming Glass.
Maisie Williams is still best known for her role on Game of Thrones where she's the sister of Sophie Turner's characters. Yes, it seems X-Men also run in the Stark family. 
Plot: Five young mutants, just discovering their abilities while held in a secret facility against their will, fight to escape their past sins and save themselves.
Stars: Anya Taylor-Joy, Maisie Williams, Antonio Banderas, Alice Braga, Charlie Heaton, Blu Hunt
In theaters globally August 2019.
Untitled Terminator Reboot
Linda Hamilton and Arnold Schwarzenegger are reprising their roles as Sarah Connor and The Terminator, respectively. Sarah Connor went from the "damsel in distress" in the first Terminator movie to being completely in-charge in the sequel!
Next to Ellen Ripley (Sigourney Weaver's character in the Alien franchise), she is probably the most famous and popular female hero – outside any DC Comic or Marvel characters. As a bonus, we also get two extra kick-ass ladies in Mackenzie Davis and Natalia Reyes.
Mackenzie Davis is one of my favorite people acting today. She has already played so many brilliant characters. Cameron Howe in the too-short-lived amazing AMC show Halt and Catch Fire is an obvious go-to. But she was also brilliant in the Black Mirror episode "San Junipero" (a personal favorite)
Basically, I'm very happy and extremely excited about this upcoming Terminator reboot. 
Plot: Well, the plot for the untitled Terminator reboot is still unknown. 
Stars: Mackenzie Davis, Linda Hamilton, Arnold Schwarzenegger, Natalia Reyes, Gabriel Luna
In theaters globally November 2019.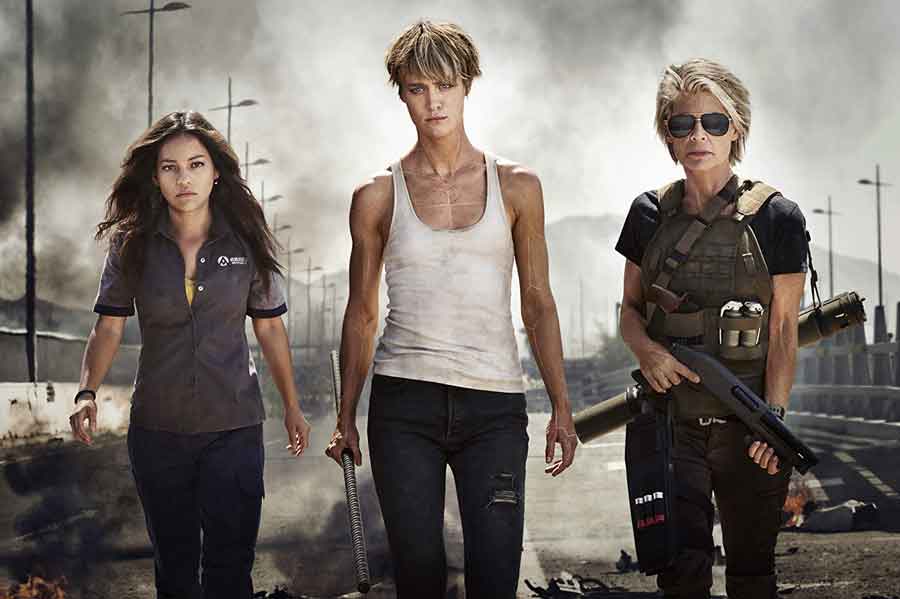 Star Wars: Episode IX
You can't talk about sci-fi and female-centered stories without mentioning the current Star Wars trilogy. Instead of Luke Skywalker (with Princess Leia on the side), we now have Daisy Ridley starring in the trilogy as Rey.
Yes, I love her character. And no, she absolutely should not be with Kylo Ren. Rey is her own hero and hopefully, she will also be a hero for everyone else. This third Star Wars sequel movie will also be the last time we get to see Carrie Fisher as General Organa through archive footage shot before her all-too premature demise. 
And yes, the bikini-wearing Princess became the respected General of the rebels. What's not to like? Of course, it's no surprise that Natalie Portman's daughter became a General. [Natalie Portman played Queen Amidala, or just Padmé, in Star Wars episodes I, II, and III]
Plot: The conclusion of the Star Wars sequel trilogy. Daisy Ridley is our female lead as the Jedi to be.
Stars: Daisy Ridley, John Boyega, Lupita Nyong'o, Domhnall Gleeson, Oscar Isaac, Billie Lourd, Adam Driver, Keri Russell, Mark Hamill, Matt Smith, Kelly Marie Tran, Dominic Monaghan
In theaters globally December 2019.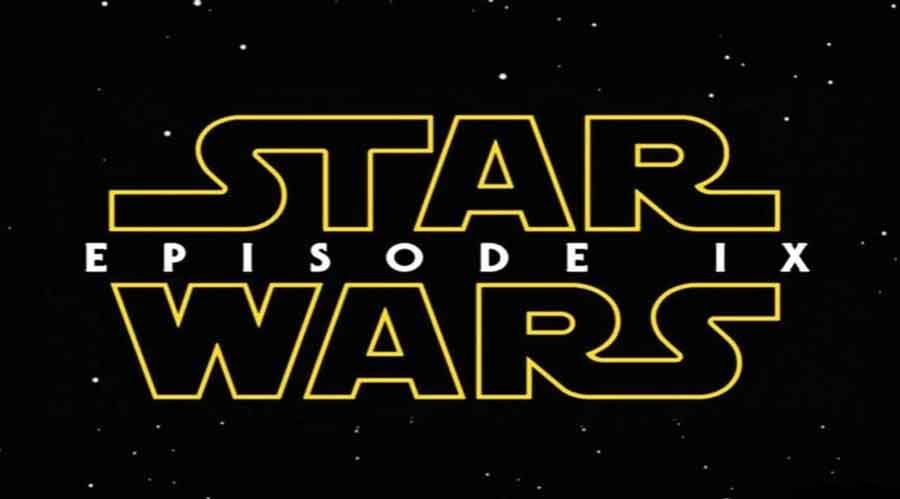 Which movies are you looking forward to in 2019?