THE ENGLISH on Prime Video is a new Western Drama series starring Emily Blunt and Chaske Spencer. Also, you can look forward to lots of familiar faces in small guest roles. A brutal revenge story that does not hold back. Read our full The English series review here!
THE ENGLISH is a new Prime Video series (co-produced with the BBC) in the Western and Drama genres. What sets this apart from other Westerns, is the fact that the story is focused on the experiences of a British woman (Emily Blunt) and a Native American man (Chaske Spencer).
Sure, they encounter plenty of white men along the way. And, to be honest, it's never a good experience.
Emily Blunt is amazing in this series, which also has an intro that I never wanted to skip past. From the music to the visuals, that opening credits piece is just gorgeous. And it sets a perfect stage for the many gorgeous shots you'll see throughout the series.
Continue reading our The English series review below. The new Prime Video western premieres on November 11, 2022.
The English is a revenge story that evolves
In The English, we meet the aristocratic Englishwoman, Lady Cornelia Locke (Emily Blunt), as she arrives in yet another dusty new area of America. Gorgeous nature and amazing views, but not much else. The place has just one building with the word "Hotel" written on it.
Upon arrival, she also meets the Pawnee ex-cavalry scout, Eli Whipp (Chaske Spencer) under less-than-ideal conditions. The two are quick to realize that together they are stronger than apart. Actually, they're not really – she is, but he isn't since he just wants peace and quiet. A request that seems near impossible for a Native American in 1890.
They are crossing middle America, which is a violent landscape built on dreams and blood. Each with their own purpose – hers being revenge and his being the wish to settle down – they face increasingly terrifying obstacles.
Meanwhile, we're also becoming acquainted with the new town of Hoxem, Wyoming. Here, the local sheriff Robert Marshall (Stephen Rea), and a young widow Martha Myers (Valerie Pachner) are looking into a series of macabre unsolved murders. And yes, the various storylines will end up intertwining. Of course!
The English series' ensemble cast also includes Rafe Spall (The Ritual), Tom Hughes (The Laureate), Toby Jones (The Snowman), and Ciarán Hinds (Elizabeth Harvest). Most of them play very small roles but do tend to make quite an impact. So, enjoy them while they're on the screen.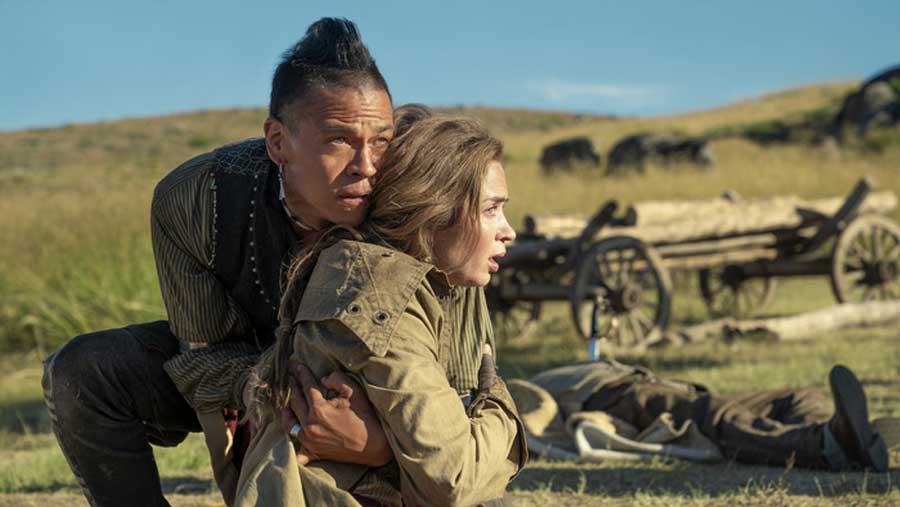 Experiencing The Wild West through different eyes
What I really found myself enjoying while watching The English was the fact that this story is seen (and told) through very different eyes than what we're used to. Cornelia Locke (Emily Blunt) is definitely a naive British woman. However, to be fair, she has one purpose in life, which makes her careless.
She seeks revenge on the man, she believes is responsible for the death of her son. With this one goal, she is ready to go through virtually anything. As you'll see in episode 1, she is off to a very rough beginning.
Of course, we all know Emily Blunt plays characters who are whip-smart and can protect themselves. Otherwise, The English would have been a very short series. The first American, she meets, sets the tone for many of the white men she'll meet in this new "Land of the Free" country.
Though, to be fair, we also get to see white men who don't care for each other. Mostly because they still abide by whatever class system they were used to in their old country. Or they're British and don't care for the French. Take your pick. And, of course, the same goes for Native Americans who don't care for each other due to being from different tribes – or having specific life goals.
Basically, everyone can find a reason not to care for someone else. This being "The Wild West", issues were usually solved with guns. Guess some things never really change, huh?!
Freedom for all… but not really!
It's not pretty, seeing human nature enjoying "freedom", but it does come across as a natural part of life at this time. You either hurt and kill or you get hurt and killed.
While women or Native Americans might try to avoid trouble, the white man seems to thrive on it. Well, the white men who went to the West for freedom anyway. As the story reveals, most of these white men went to this land of opportunity for either money, power, or freedom. And having the two first would ensure the third, so that seemed to be the plan.
Obviously, there are also plenty of good guys. They just never seem to last long when faced with men without scruples.
Watch The English on Prime Video
The English series comes from the award-winning writer and director Hugo Blick. The core themes are identity and revenge while race, power, and love become other driving forces for our main characters. All of which makes this quite an epic Western.
As the creator of this new Prime Video western series, Hugo Blick also serves as an executive producer as well as director, and writer. Emily Blunt is also an executive producer on the series alongside Greg Brenman (Peaky Blinders, The Honourable Woman) with Colin Wratten (Killing Eve) as a producer.
The English series is a co-production with Amazon Studios and BBC. The setting is, of course, mostly in the striking (and mostly unharmed) nature of America. However, we do also get a few scenes set in old England. Make sure you pay attention to the dialogue since many details of the story are mentioned in passing.
There is quite a bit of going back and forth in time (between Cornelia being in England and then in America, for one) and also, you'll see stories evolve simultaneously. The series makes a point out of writing where and when we are, at all times, so make sure you also pay attention to this.
Womentainment recommendation: If you liked Godless on Netflix, you will definitely want to watch The English
This story focuses very much on the two characters played by Emily Blunt and Chaske Spencer – with Emily Blunt having the most interesting character arc – so the story is tighter in its focus than Godless.
However, the comparison is still very relevant in that both focus on more than just the "white brooding cowboy"-type. Episode 1 of The English is a strong pilot, but it's in watching the entire series that you truly get a feel for the powers at play.
The English premieres on Prime Video on November 11, 2022.
Creator: Hugo Blick
Director: Hugo Blick
Writer: Hugo Blick
Cast: Emily Blunt, Chaske Spencer, Stephen Rea, Valerie Pachner, Rafe Spall, Tom Hughes, Toby Jones, Ciarán Hinds
Official plot:
An aristocratic Englishwoman, Lady Cornelia Locke (Emily Blunt), and a Pawnee ex-cavalry scout, Eli Whipp (Chaske Spencer), come together in 1890 middle America to cross a violent landscape built on dreams and blood. Both of them have a clear sense of their destiny, but neither is aware that it is rooted in a shared past. They must face increasingly terrifying obstacles that will test them to their limits, physically and psychologically. But as each obstacle is overcome, it draws them closer to their ultimate destination—the new town of Hoxem, Wyoming. It is here, after an investigation by the local sheriff Robert Marshall (Stephen Rea) and young widow Martha Myers (Valerie Pachner) into a series of bizarre and macabre unsolved murders, that the full extent of their intertwined history will be truly understood, and they will come face-to-face with the future they must live.