LOSING ALICE is a new Apple TV Plus thriller series from Israel. We're dealing with a psychological (and quite erotic) thriller series with a strong female lead. Read our full Losing Alice series review here!
LOSING ALICE is a new Apple TV+ thriller series from Israel. Just from watching the trailer, you should get the sense that the lead character, Alice, is worth checking out this series for. In terms of genre, you'll get both a psychological thriller, some mystery, and a very erotic element. Including increasingly queer vibes!
Admittedly, I found myself getting increasingly irritated with certain characters and developments. I loved episode 1 but by episode 3, I started getting annoyed. And yet, Alice is fascinating enough that I can't quite let go. Maybe I just need to trust the process and watch the story unfold?
Continue reading our Losing Alice series review below and find it on Apple TV Plus.
Check it out for her!
Ayelet Zurer portrays the title character of Alice and she steals every single scene she's in. As far as I'm concerned anyway. I have no idea why anyone would be fascinated by the younger, Sophie (Lihi Kornowski). More often than not, she behaves like a spoiled brat. I do, however, recognize that she's brilliant at making people feel like they're the center of her universe.
For a while, anyway!
Still, Ayelet Zurer is the reason to watch Losing Alice. And not just because she plays the lead character, who we follow as this story progresses. Though obviously, this means more screen time for her. Fortunately, Alice is a no-nonsense woman who is fed up with being at home with kids after having been a successful director in the past. She's more than ready to get back out there.
I would expect many viewers to start really rolling their eyes and cringing exceedingly towards the end of episode 3. I've heard (from those who have watched the entire season) that the final episode makes a strong comeback.
Personally, I don't enjoy watching a series where I feel like some episodes are actively driving me away. Episode 3 of Losing Alice definitely had that effect on me. Except for the performance by Ayelet Zurer, who really shined in this particular episode as well.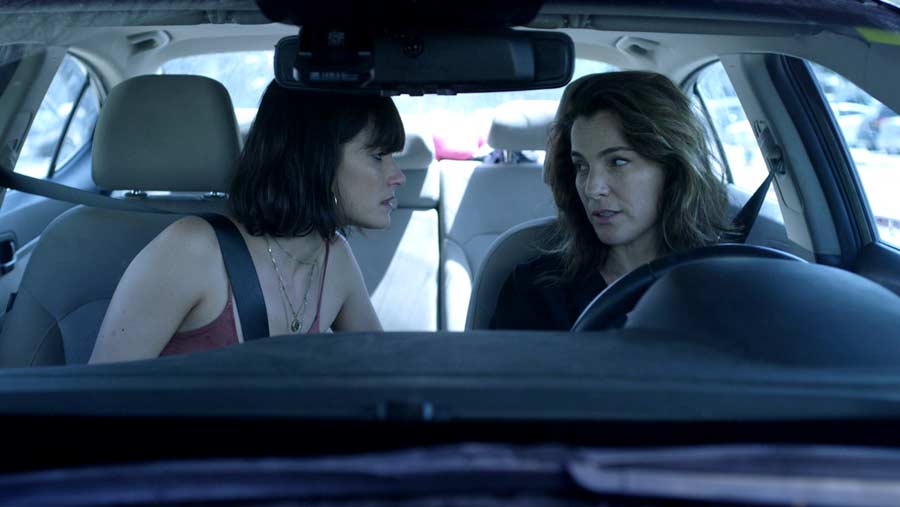 Ayelet Zurer
is

Alice

Losing Alice has a lot going for it with Ayelet Zurer in the title role. The fact that Ayelet Zurer looks like the lovechild of the British "Domestic Goddess" Nigella Lawson and actor Kathleen Quinlan (Academy Award nominee for Apollo 13) doesn't hurt. Seriously, it's amazing how these three women somehow look eerily similar.

Her face is just fascinating to look at and I particularly enjoy how Alice never tries to hide when she's done with other people's BS.

The familiarity of Ayelet Zurer's expressive face could also be from the fact that she was in Man of Steel (2013). She portrayed the biological Kryptonian mother of Superman himself, which feels very appropriate.

She was also in Steven Spielberg's Munich (2005) as well as Ron Howard's Angels & Demons (2009). In terms of TV series, she's been in an episode of Transparent and had a recurring role on Daredevil. In other words, there are plenty of reasons why her face should be familiar to you.

Up next for Ayelet Zurer is a role on season 3 of the Netflix series You, which I am definitely looking forward to!
Watch Losing Alice on Apple TV+
Losing Alice was created by Sigal Avin who is also the writer and director of the series. Honestly, this is my big hope for the series. Sigal Avin is a woman and I cannot believe that with the sense I got from watching the ending of episode 3. So, no matter my current issues with the whole Lolita vibe I am still intrigued enough that I suspect I'll keep watching.
And yes, I know the character of Sophie is 24 years old, but she acts much younger. That's why I feel like the Lolita-moniker is much more accurate. When we're talking about Alice herself, then we can talk about a Femme Fatale. Well, except for the "minor" issue that she doesn't act like one.
Yeah, I've got issues with Losing Alice but I'm willing to give it the benefit of the doubt for a bit longer. Admittedly, it is only because I find Ayelet Zurer's portrayal of Alice to be utterly fascinating and because I trust that Sigal Avin has created a solid series. Also, I must admit that this series has an extremely high production value and is a feast for the eyes.
Losing Alice consists of eight episodes where Apple TV+ will release three episodes on January 22, 2021, and the remaining five episodes will premiere weekly on Fridays.
Creator: Sigal Avin
Writer: Sigal Avin
Director: Sigal Avin
Stars: Ayelet Zurer, Lihi Koronowski, Shai Avivi, Gal Toren, Yossi Marshak, Chelli Goldenberg
Official plot:
"Losing Alice" is a thrilling cinematic journey that uses flashbacks and flash-forwards in a satisfyingly complex narrative that takes the viewer through the conscious and subconscious of its protagonist's mind. The series follows Alice (played by Ayelet Zurer), a 48-year-old female film director, who feels irrelevant since raising her family. After a brief encounter on the train, she becomes obsessed with a 24-year-old screenwriter femme fatale, Sophie (played by Lihi Kornowski), and eventually surrenders her moral integrity in order to achieve power, relevance and success. Through the prism of this female Faust, the series explores issues such as jealousy, guilt, fear of aging, and the complex relationships women have among themselves and each other. But above all, "Losing Alice" is a love letter for the still-too-rare female director.