My Days of Mercy is a beautiful love story by Tali Shalom-Ezer starring Ellen Page and Kate Mara. The two have been wanting to make a movie together for quite some time and this is the perfect vehicle for that purpose. A warm and sometimes heartbreaking LGBTQ love story!
My Days of Mercy release date update – you'll finally be able to watch it. Click here to go directly to the story about this!
Even though My Days of Mercy is about love, it's also very much about the death penalty. Or more specifically, it deals with the characters' views on the death penalty based on their own lives.
The characters portrayed by Kate Mara and Ellen Page – Mercy and Lucy, respectively – have very opposing views on the death penalty. This makes for some initial banter of a pretty dark nature. The challenge for the women is the fact that once their eyes have met, they're clearly smitten with one another.
I really wasn't sure what to expect as far as the love story goes. I mean, if you've ever seen Kate Mara or Ellen Page in anything, you'll know they're brilliant actors. So clearly this wasn't of any concern. And even though Kate's sister Rooney Mara played opposite Cate Blanchett in Carol, which is arguably one of the most iconic lesbian movies of recent years – Kate is matching that in My Days of Mercy.
Instead, my worries were simply that maybe this movie would be too dark because of the heavy subject of the death penalty.
Love and the Death penalty?
The issue of the death penalty is handled in a very realistic, honest and direct way. For one, the two main characters have opposing views but also like one another, so they actually manage to communicate their views in a respectful manner.
Personally, I especially loved the way each new case [someone being executed that very day] was introduced solely by showing their last meal. After all, food is one thing that connects us all across borders, cultures and political views. We might not eat the same things, but we do all have to eat in order to be alive.
For the record, the image of their last meal was accompanied by where in the U.S. they were. And, of course, the reason they had been given the death penalty in the first place.
Both Lucy (Ellen Page) and Mercy (Kate Mara) travel to each of these destinations to fight for or against the execution being performed. Or rather, Lucy (Page) is the character with more skin in the game. Mercy (Mara) may have her beliefs, but follows her family more than her own ideas.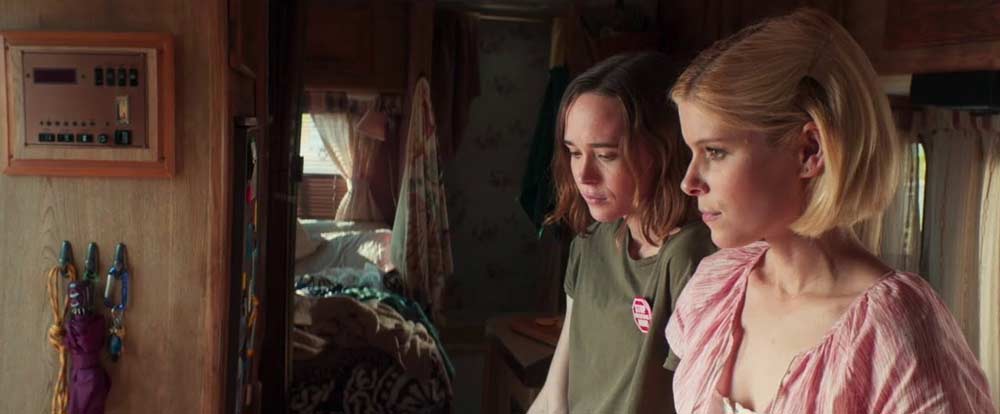 The honesty of love
While the feelings Lucy and Mercy feel for one another are very honest and pure, their background and current lives are very different. My Days of Mercy almost translates into some kind of on-going summer camp. They get to see one another whenever a new execution is about to take place. Other than that, they have their own lives to deal with.
I loved every aspect of the movie, but I would be lying if I didn't admit to you that the love story was my favorite part. Their relationship and the way it evolved just felt wonderfully organic. Even though their chemistry is obvious, they get to know one another first.
And being of the same gender identity, there's the whole issue of figuring out whether the other person is even interested in a same-sex relationship. Don't worry, they definitely both are!
Also, there are some beautiful sex scenes in My Days of Mercy. No matter where you personally fall on the spectrum of sexuality, you should definitely be able to appreciate this.
Ellen Page and Kate Mara even revealed in an interview that director, Tali Shalom-Ezer, had "tested" the choreography with her own wife. So they knew for a fact that everything was very much based in reality.
For anyone who might not know, Ellen Page identifies as gay, and they are both married. Kate Mara married actor Jamie Bell in 2017, and Ellen Page married her girlfriend in early 2018.
Everyone should get to watch this!
Unfortunately, it's possible you won't be able to watch My Days of Mercy. I don't mean actually watching it, but rather getting the chance to view it.
Your best shot is probably to catch a screening at a film festival or wait for it to come out on VOD. It's a damn shame that this movie isn't out in a wider release. Both the issue of the death penalty and the relationships portrayed in the movie are relevant and beautiful.
I especially have to mention Amy Seimetz, who plays Martha, the older sister of Ellen Page's character, Lucy. Amy Seimetz is always brilliant, but in My Days of Mercy, she has some extremely tough scenes and nails every one of them!
If you don't know Amy Seimetz by name, you probably still recognize her wonderful face. She's been in Stranger Things, Alien: Covenant and The Girlfriend Experience (to mention just a few) within the past two years.
This is a movie featuring a lesbian relationship, directed by a gay woman and produced primarily by women. Ellen Page and Kate Mara produced this movie as well as starred in it. They were also instrumental in choosing the director and had the script re-written to enable them to star in it.
These things combined mean the movie faces an unreasonable amount of challenges. And really, the movie is so damn good that it seems desperately unfair to keep it from a large audience.
Catch it at a film festival
The script for My Days of Mercy was written by Joe Barton, who currently has an adapted screenplay produced on Netflix. It's the horror thriller The Ritual, which is worth watching as well. Click here to read our review over at Heaven of Horror >
Tali Shalom-Ezer has directed a beautiful gem of an indie film. I just hope a lot of people will get to watch it! I was lucky that I had the chance to watch it as part of a Winter Pride event in Copenhagen, Denmark.
My Days of Mercy premiered at Toronto International Film Festival on September 8, 2017.
It's currently playing at film festivals and will be at BFI Flare (London LGBT Film Festival) in March 2018. Your best chance to watch it will probably be international and/or LGBT film festivals all over the world.
Update: My Days of Mercy will be released in April 2019
Finally, we have a release date for My Days of Mercy. So now you will actually be able to watch My Days of Mercy for yourself. You can even own it – and you should!
Lionsgate will release My Days of Mercy in select US theaters and on VOD from April 5, 2019.