I Am the Night is a new TNT limited series by Patty Jenkins (Wonder Woman) starring Chris Pine and India Eisley. We watched the world premiere of episode 1 at AFI Fest. Here's our review of the first episode!
I Am the Night is a limited series that Patty Jenkins managed to do in between Wonder Woman and Wonder Woman 1984, which will be out in 2020.
Judging from just the first episode (or pilot), this looks like a very fascinating story. Of course, the fact that it's based on a true story just makes it all the better. Well, to me, anyway.
The casting in I Am the Night seems spot-on with India Eisley and Chris Pine getting most screentime. These are the two lead protagonists attacking the same mystery from two very different starting points.
The cast of I Am the Night
While actors such as Connie Nielsen (Wonder Woman) and Leland Orser (Se7en) are part of the cast, we don't see them in the I Am the Night pilot. Or actually, we do see Connie Nielsen (sort of) and hear her voice, but that's more as a teaser to the events about to unfold.
The first episode is all about introducing Pat/Fauna (India Eisley) and Jay Singletary (Pine). Both their background stories and how they will interact during this miniseries.
While Pat (Eisley) is just a biracial white-passing girl living in a black community in a still very segregated world, she comes to find out that there's more to her background than she thought.
For one thing, her name is Fauna and her origin is very different from what she's been told. When we leave her at the end of episode one, she's heading out to Los Angeles to find out more.
Jay (Pine) is working as a reporter in Los Angeles, where he goes the extra mile to find the truth. At the very beginning of his career, he pushed a little too far. He uncovered some things better left in the dark and got himself blacklisted.
Now he takes on any paying reporter job to sustain his cocaine habit. Still, he never wants to compromise with telling the truth. But he does care about who knows the truth and even as an addict has a certain moral conduct.
From the "coming up"-bit at the end of episode 1, we learn that Jay and Fauna are looking into the same story and will join forces. We also know that Fauna will have to grow (and toughen) up fast to stay safe. And she does!
Golden Brooks in episode 1
In the key role as Pat's mother, we see Golden Brooks in an award-worthy performance. She wins us over and makes us pretty much hate her all in the course of one episode. We might understand her through it all, but she pushes every button available.
If it hadn't been for the portrayal Golden Brooks pulls off, you would probably just flat out hate her.
Obviously, she's been sitting with a huge secret since her daughter Pat, is actually named Fauna. Also, she comes from a very different background than what she's led her to believe.
As the mother of a very light-skinned biracial girl, she's had the hope that one day she will darken. Of course, that never happened and now she's a young woman. If you know of Fauna Hodel, then you'll know exactly why her skin never became darker.
"One Day She'll Darken: The Mysterious Beginnings of Fauna Hodel" is actually the memoir of Fauna Hodel (with J. R. Briamonte). It's written in the third person, so I'm guessing it reads more like a work of fiction. One I plan to read after watching the TNT series to get the entire story of Fauna.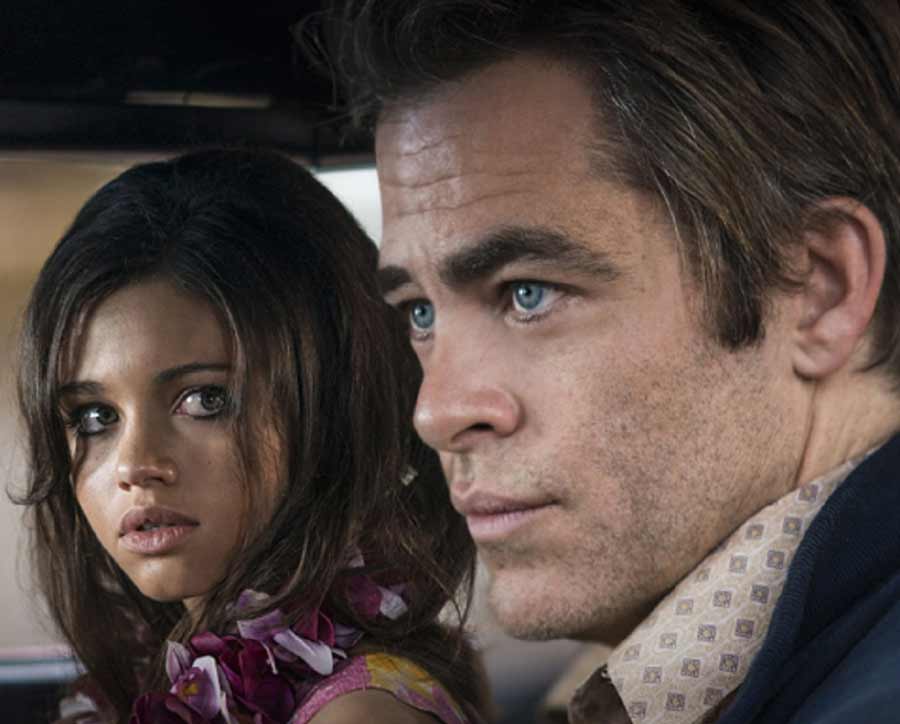 Based on a true story
This limited series is based on the fascinating life story of Fauna Hodel (India Eisley). The fact that this is a real story doesn't exactly make it any less interesting. Quite the opposite.
Once again, we're confronted with the fact that life can both match – and even surpass – fiction.
I don't know too much about the Fauna Hodel story, other than a few bits and pieces. After watching episode 1 of I Am the Night, I had to stop myself from looking into it right away. I don't want to spoil myself and suddenly be annoyed that some parts may be left out.
For now, I'll just have to wait until Januar 2019 when the limited series premieres on TNT. The entire series is just 6 episodes, and from the first episode, the stage is definitely set for both real-life horror as well as more life-affirming experiences.
The creators of I Am the Night
Sadly, Fauna Hodel herself passed away in September of 2017 (breast cancer). Up until this point, she was a producer and is listed as co-producer of the series. 
She also gets writing credit for all episodes since I Am the Night is based on her. The individual episodes have been written by Sam Sheridan and Monique Beletsky. Sam Sheridan was a staff writer on two episodes of SEAL Team but is otherwise without writing credits. Monique Beletsky has previously written episodes of Fargo, The Leftovers and Parenthood and also serves as producer on all three.
As well as being an executive producer (along with it's leading man, Chris Pine), Patty Jenkins directs three out of the six episodes in the miniseries. Jenkins directs episodes 1, 2 and the final episode 6. 
Episode 3 and 4 are directed by Victoria Mahoney, who also directed a few episodes of the pretty female-centered shows Queen Sugar [OWN] and Gypsy [Netflix]. The penultimate episode 5 is directed by Carl Franklin, who directed episodes of shows such as Netflix's Mindhunter and House of Cards.
Yeah, I'd say we're dealing with directors who are very capable of creating absolutely amazing television.
I can't wait for it to continue
India Eisley and Chris Pine might not share a scene in episode one of I Am the Night, but the press stills reveal that they will share screen time. Also, based on the trailer and the "next on" scenes at the end of the pilot, it looks very promising. 
Both their joint scenes and the story as a whole. The style of it is exactly the kind I like. A little gritty with a lot of heart and so much left unsaid. All of which makes me crave the next episode.
The pilot episode of I Am the Night does exactly what it's supposed to; It intrigues, surprises and leaves the audience wanting a lot more. If this was a show released by the season, I would no doubt binge-watch it the second it came out.
I simply would not be able to stop myself from watching this wild story unfold.
Womentainment recommendation: Based on episode 1, you will love I Am the Night
It's difficult to say much from just the first episode (or pilot, if you will), but the style and tone are certainly set from the beginning. With that in mind, then I Am the Night is going to be well worth your time. 
I Am the Night will premiere on TNT in January 2019.
We watched the world premiere at AFI Fest 2018 in Los Angeles on November 9, 2018.
Directors: Patty Jenkins, Victoria Mahoney, Carl Franklin
Writers: Fauna Hodel, Sam Sheridan, Monica Beletsky
Cast: Chris Pine, India Eisley, Jefferson Mays
Official plot:
Inspired by true events, "I Am the Night" tells the gripping story of Fauna Hodel (India Eisley), a teenage girl who is given away at birth, and grows up outside of Reno, Nevada. Fauna lives more-or-less comfortably with the mysteries of her origin, until one day she makes a discovery that leads her to question everything. As Fauna begins to investigate the secrets of her past, she meets a ruined reporter (Chris Pine), haunted by the case that undid him. Together they follow a sinister trail that swirls ever closer to an infamous Los Angeles gynecologist, Dr. George Hodel (Jefferson Mays), a man involved in some of Hollywood's darkest debauchery, and possibly, its most infamous unsolved crime.