The Favourite is a crazy movie experience – in the best way. It could easily be described as a royal lesbian drama because, well, it is! 
The Favourite can't really be explained. It has to be experienced first hand. As soon as you start talking about elements of it, this movie sounds either very strange or completely crazy. 
In reality, it's a little bit of both. But mostly, it's just a deliciously royal lesbian drama. Not because everybody is a lesbian, but everybody in The Favourite does seem to be kinda gay.
Also, every sexual encounter with any real meaning or intensity is between two women. Any kind of sexual interaction between a man and a woman is of a more umm "practical" nature. Men are literally pawns in this game played by women.
And talking about the women of this movie, you really could not wish for more. We get Olivia Colman as Queen Anne, Rachel Weisz as Lady Sarah, and Emma Stone as Abigail. All three performances are worthy of all the awards!
Mean Girls as a period piece
The comparison to Mean Girls is almost undeniable. Well, if Mean Girls has been a lot gayer. As in Orange is the New Black or The L Word gay. Yes, that gay. 
But in terms of the attitude and overall shenanigans, it's pretty spot on. The women of The Favourite are definitely the original Mean Girls.
Olivia Colman is so absolutely brilliant as Queen Anne. I can't even begin to explain how and why this is, but even before she has spoken one word, you will be in awe of her.
And when she does speak, she offers up some very quotable lines. Like her reasoning for wanting to keep Abigail (Emma Stone) on staff: "I like it when she puts her tongue inside me".
Before any men throw a hissyfit from all this female adoration, please remember that the director, Yorgos Lanthimos, is a man. Not since Todd Haynes' Carol have I been so pleased with a man directing a female-centered movie.
This alone should make every woman run to the nearest screening of The Favourite.
The most delicious trio
To me, the best intensity is between Lady Sarah (Rachel Weisz) and Queen Anne (Olivia Colman) as lifelong friends. Well, friends with very honest and sexual benefits.
Lady Sarah seems to be the only one who talks very frankly to the Queen and gets away with it. Something this piece of dialogue between them demonstrates perfectly:
Queen Anne: They were all staring, weren't they? I can tell even if I can't see, and I heard the word fat. Fat.
Lady Sarah: And…
Queen Anne: And ugly.
Lady Sarah: No one but me would dare, and I did not.
She's the favorite for this very reason and she knows it. Well, that and the sexual elements.
But this is also the reason why Abigail (Emma Stone) sees an opportunity to swoop in. All Abigail needs to do is offer love and compassion (and yes, sexual elements). And it works like a charm.
Also, because I know many of you want to know this; Yes, there are quite a lot of women kissing women in this movie.
Or rather, there are several scenes of Rachel Weisz kissing Olivia Colman. Their relationship is the most physical whereas Emma Stone's Abigail is working more on the Queen's heart and mind.
Well, that and then the whole business about sticking her tongue inside the Queen.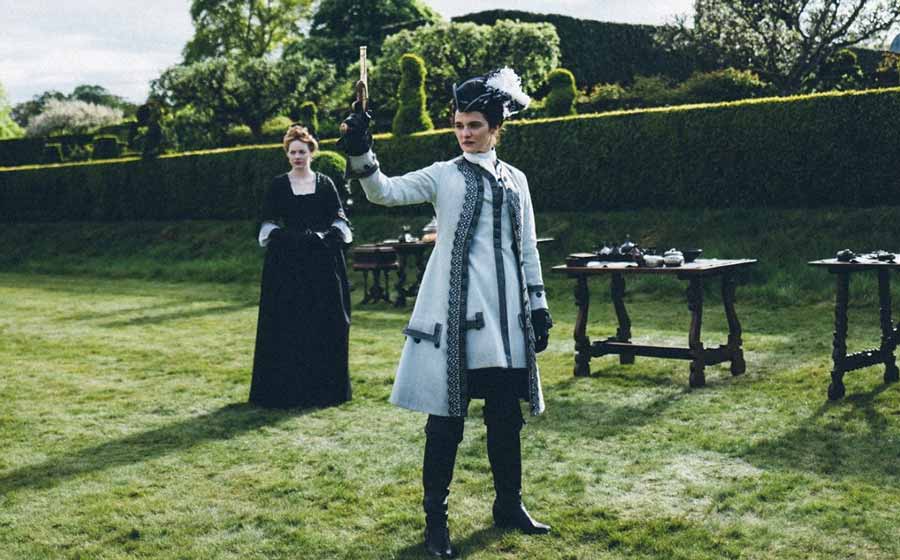 The Favourite is all about women
It's very difficult to explain exactly why you should watch The Favourite. But you definitely should and certainly not because it's a typical period piece.
For one, it's very much a lesbian drama, which is hardly the norm for this genre. Though, let's be honest, it would make most movies better. 
Also, it's crazy and edgy in various unexpected ways. From the very modern dance moves being incorporated at a Royal Ball to completely the female-centered story.
Men do not really matter in The Favourite. They play their part, of course, but mostly based on what the women want them to do. Every single thing these women do is to serve their own end goal.
Whether that be an attempt to make England stronger or simply retain the title of "Lady" is the only question. 
And FYI, both involve two brilliant female characters trying to get into bed with the Queen. Yes, literally!
Womentainment recommendation: Do not miss The Favourite
After watching this movie, I found out that Lady Sarah had the last name"Churchill". And yes, Winston Churchill is a descendant of Lady Sarah. When you watch The Favourite (and, of course, you will) remember that Rachel Weisz portrays a relative of Churchill and you'll see where he got his skills from. 
Actually, Diana, Princess of Wales, also descended from Sarah. Amazing what you can learn from watching a movie and getting curious about the real-life people in it.
For months, The Favourite has been screening at film festivals worldwide after its world premiere at Venice Film Festival on August 30, 2018. We caught a screening at AFI Fest [American Film Institute film festival] in November 2018.
The Favourite will be out in select US theaters on November 23, 2018. And then it will expand weekly – check out the release schedule on the Facebook page for the movie >
By the end of January 2019, it will also be released in Australia, New Zealand, the UK, most of Europe, and many other countries globally. When you get the chance to watch this, you really should jump at the opportunity!
Director: Yorgos Lanthimos
Writers: Deborah Davis, Tony McNamara
Cast: Olivia Colman, Emma Stone, Rachel Weisz, Nicholas Hoult, Joe Alwyn
Official plot:
Early 18th century. England is at war with the French. Nevertheless, duck racing and pineapple eating are thriving. A frail Queen Anne (Olivia Colman) occupies the throne and her close friend Lady Sarah (Rachel Weisz) governs the country in her stead while tending to Anne's ill health and mercurial temper. When a new servant Abigail (Emma Stone) arrives, her charm endears her to Sarah. Sarah takes Abigail under her wing and Abigail sees a chance at a return to her aristocratic roots. As the politics of war become quite time consuming for Sarah, Abigail steps into the breach to fill in as the Queen's companion. Their burgeoning friendship gives her a chance to fulfill her ambitions and she will not let woman, man, politics or rabbit stand in her way.