A DEADLY INVITATION on Netflix is a murder mystery from Mexico (org. title: Invitación a un Asesinato). It's a thriller-comedy hybrid and isn't too violent. Plus, the story was surprisingly good. Read our A Deadly Invitation movie review here!
A DEADLY INVITATION is a new Netflix movie from Mexico (org. title: Invitación a un Asesinato). The story is a murder mystery not unlike Knives Out or even the Hercule Poirot movies coming out these years.
It's a comedy, thriller, and drama hybrid in terms of genre, so it's not a bloody or violent murder mystery. Instead, it's more of a character-based story with heart and wit. Oh, and a lesbian true crime podcaster to solve the crime. Of course!
Continue reading our A Deadly Invitation movie review below. Find it on Netflix from October 6, 2023.
Let the game begin
When the eccentric millionaire Olivia (Maribel Verdú of Pan's Labyrinth and The Flash) sends her half-sister Agatha, a very mysterious invitation, Agatha immediately decides to go. The two sisters haven't been close in years, but it isn't because there's any love lost there. So, when Olivia reaches out, Agatha is quick to reach back.
Along with Agatha (Regina Blandón), Olivia has invited a group of old acquaintances. They've all received the same mysterious invitation for a weekend on her yacht. Once there, the full plan will be revealed. It turns out to be a game. A murder-mystery.
Before the game has begun, everyone is caught off-guard by an unexpected death. Now, Agatha – a successful true crime podcaster who solves cold cases – joins forces with a policeman looking to advance his career. Also, he's a fan of Agatha's podcast and believes she can help crack the case.
As in any good murder mystery, everyone is a suspect. From Carlos (the ex-husband) to Cary (a fading actor), Sonia (the former friend), Doña Cristina (the housekeeper), Figue (the doctor), and even Naram (the yoga instructor).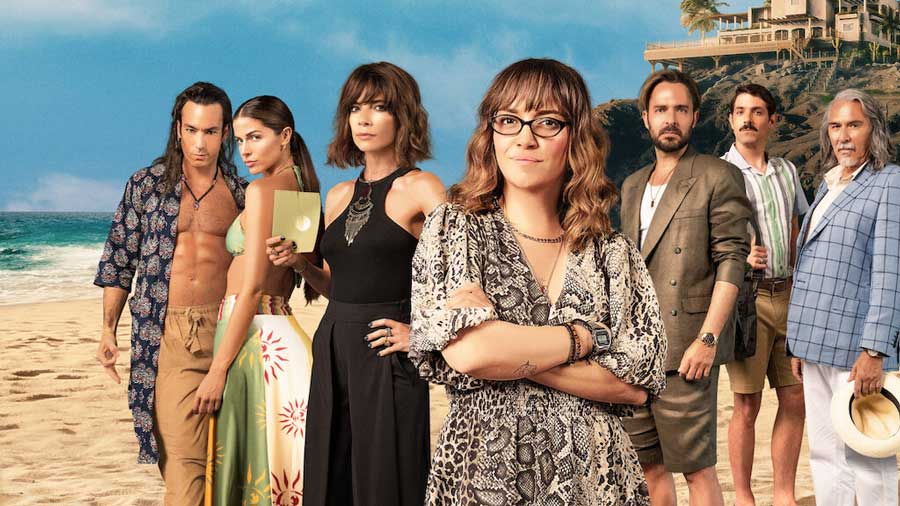 A surprisingly good story
Let's be honest, these murder-mystery movies don't always have the best stories. Either they're way too easy to guess ahead of time or it's just too weird and complex. With A Deadly Invitation, it actually works. Sure, it can almost be a spoof on the whole murder-mystery niche. But really, the same could be said for Knives Out.
The main protagonist of A Deadly Invitation is Agatha (yes, as in Christie). She's a true crime podcaster who has fans everywhere. Even within the police, which helps her get close to the murder investigation once we get to that point.
Also, she makes the podcast with her partner, who is a woman and her partner in all aspects of life.
The fact that Agatha is a lesbian (or definitely part of the LGBTQ community) is a non-issue, which is always a welcome detail for me. When someone is in love with a person of the same gender, it doesn't have to be a huge ordeal. Sometimes, it just is.
In A Deadly Invitation, Agatha's partner is a woman and that's that. The two also make a great team.
Watch A Deadly Invitation on Netflix now!
J.M Cravioto (Diablero) is the director of A Deadly Invitation on Netflix. The movie is based on the novel by Carmen Posadas, which has been adapted into a screenplay written by Javier Durán Pérez and Anton Goenechea.
If you're a fan of Knives Out, then I think you'd enjoy this movie. For me, it was stronger than several of Kenneth Branagh's recent "Hercule Poirot"-movies, but that may just be me. Those particular movies are of course also based on the books by Agatha Christie.
Surely, naming the main protagonist in this Netflix movie Agatha is no accident. Fortunately, she more than earns the name with how she works the true crime case at hand.
Womentainment recommendation: A lesbian saves the day. Need I say more?
Of course, you should check out A Deadly Invitation on Netflix. It's an entertaining little story with a heavy subject covered along the way. In a very good way, I might add.
Also, the main protagonist solves cold cases in her true crime podcast with her girlfriend as a partner. And yes, Agatha also solves the murder mystery in this movie and saves the day.
A little tip: If you're looking for a brutal revenge story with a female protagonist, you should check out Ballerina (2023) released on Netflix at the same time as this murder mystery.
A Deadly Invitation (org. title: Invitación a un Asesinato) is on Netflix from October 6, 2023.
Director: José Manuel Cravioto
Writers: Javier Durán Pérez, Anton Goenechea, Carmen Posadas
Cast: Regina Blandón, Maribel Verdú, Helena Rojo, Manolo Cardona, Stephanie Cayo, Pedro Damián, Aarón Díaz, Juan Pablo de Santiago, José María de Tavira, Mariana Cabrera, Julio Casado
Official plot:
A true crime enthusiast is ensnared in her high-society sister's murder. With a villa full of posh suspects, it's up to her to find the culprit.