Don't miss the new full Arrival trailer, which features Amy Adams as the female protagonist – and yes, the hero!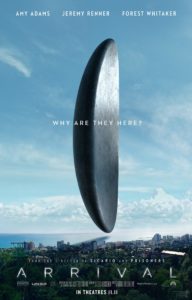 A teaser was released recently, but now the full Arrival trailer is out. It's a joy to see that not only is Amy Adams the star, she is the hero.
Arrivals also stars Jeremy Renner and Forest Whitaker, and is directed by Denis Villenue. Of course, Villenue is no stranger to amazing female characters. He directed Sicario, which starred Emily Blunt in the lead role. Also, he started his international career with the Academy Award nominated Incendies (you have to watch that one!).
Anyway, getting back to the Arrival trailer, here's the official plot:
Taking place after alien crafts land around the world, an expert linguist is recruited by the military to determine whether they come in peace or are a threat.
And yes, Amy Adams is of course the "expert linguist". A character that would usually always be played by a man, but the world is clearly ready for a female protagonist to carry a major release.
The script for Arrival is by Eric Heisserer and based on a short story by Ted Chiang. Heisserer has made a career of writing horror reboots or sequels (A Nightmare on Elm Street, Final Destination 5), and most recently, he wrote the script for Lights Out. It was based on the short film hit of the same name and starred Teresa Palmer and Maria Bello,
Also, I happen to love horror and you can't ignore the fact that the female characters tend to be the hero in the classics. For example, Nancy (Heather Langenkamp in the original) is the hero of Nightmare on Elm Street.
Hopefully, this movie will be a huge success. Otherwise, we already know we'll be hearing oddball reasons why it was Amy Adams' fault.
Arrival will be out in US movie theaters on 11 November.